CLICK ON LINK BELOW, TO SEE THE CONTENTS PAGE
https://captajitvadakayil.in/2022/03/04/menu-contents-page-of-entire-wordpress-posts-of-capt-ajit-vadakayil-2/
My mentor Capt Ajit Vadakayil's Wordpress blogsite posts can be found in the TREASURE TROVE link below.
https://captajitvadakayil.in/about/
My Sarama was forced to shift his posts from Google blogger to Wordpress.. why?
Evil Google kept deleting my Sarama's blogposts without telling .
Evil Google red flagged Capt Ajit Vadakayils blogsite twice ( for several months ) lying that his blogsite steals sensitive personal information from the computers of readers
And then finally in an act of dastardly pettiness Google completely deleted my mentor's blogsite .
Google killed their golden goose. Wordpress now hosts this planet's largest blogsite of 2500 posts ..
It was the fruit of 12 years of relentless blogging 16 hours a day.
Capt Ajit Vadakayil's Google profile view of 1.11 billion ( 1111 million ) can never be exceeded till the sun goes supernova
The deep state wants my mentor , the Field Marshall of Vadakayil Kalki Army, to lie , be politically correct, and tow their line.. HAAA think again..
It wont happen.. it shall remain their KOSHER PIPE DREAM.
This post is continued from part 10 below:-
https://suman-vadakayil.blogspot.com/2022/02/my-mentor-vadakayil-chinna-moyals_26.html
My sarama taught me how to recognise red flags.
Every time I took a long taxi drive to from ashram, the taxi driver would flirt with me.. So the last time I took a public bus to Siliguri, a 3.5 hour ride
One man sat next to me and pretended to be sleepy. He kept throwing his face on me shoulder.
I remembered what mee Sarama taught me- how to deal with such creeps..
He will never fall on a woman in a bus in his life ever again.. I disgraced him in public..
Yes, this is the same soft butterball Suman
My Sarama infused me with hope..
There is no permanent heaven / hell in Hinduism. We are not condemned to hell in a single life..
We have re-births till we get moksha and our souls merge with the mother field of brahmAn at the seventh astral layer.. .
Our equivalent of hell is the first astral layer where your soul is parked along with lesser forms of life , if the karmic baggage is too high. This is advanced quantum physics not superstition..
Vedanta says that there is hope of salvation even for the worst sinner. The doctrine of transmigration gives ample scope for the sinner to correct and educate himself in future births.
There are NO superstitions in Hinduism, other than what was injected by the white invader to DIVIDE AND RULE after making the Hindu self loathing.
For 800 years the Hindu was a slave to foreign rule-yet he kept his faith. This is possible only if his faith offered him HOPE.
Hinduism has never contested with other faiths.
It accepts and honors truth—wherever it may come from and whatever garb it may put on. The Hindus live in perfect harmony and peace .
The white man always came to Hindu India when they wanted inner peace.
Today the western man knows the worth of Hinduism.
The phrase "losing my religion" is an yank expression for "being at the end of one's rope."
BELOW: WHILE I EARNED MORE THAN 10K USD PER MONTH IN USA , I LOST ME RELIGION-- AND I WANTED OUT
The white man is increasingly getting burnt out.
Stressed people can feel better if they can get things under control.
Burn out means feeling empty , beyond hope and beyond caring- all dried up- problems seem insurmountable. You just can't muster the energy to care. You are overwhelmed- you don't want to even throw down your cap – you just sink to your knees.
Emotions are blunted and you can see helplessness. The damage due to stress is physical, the damage due to burn out is emotional- life just seems not worth living.
Self injury or SUICIDE can be one way out , if the victim does not know how to handle it. Having attempted seven suicides I know what this feeling is..
Stressed people can find it out for themselves- burn out has to be detected by others- for the detachment is gradual, burn out does not happen overnight .
Doing work seems to be against your core values, you are trapped for mere economic reasons. Burnt out men must take time off- take a complete break from work. Victims of burn out must NOT be kept isolated.
They must be allowed to say NO and declare "enough is enough!"
COME TO INDIA, TRY SPIRITUALITY- IT IS BETTER THAN CHEMICALS.
BELOW: WHILE IN USA, I WAS HANGING AT THE END OF MY ROPE, HAND TENDONS ENERVATED, UNABLE TO TIE A KNOT..
BECAUSE MY ELDER SIS DID HER MASTERS IN USA, MY PARENTS MADE ME DO IT TOO ..
I GOT WRECKED IN USA— SPIRITUALLY— EVERY WHICH WAY
NO REGRETS. THANKS TO MENTOR SARAMA I HAVE FOUND MY LIFE'S PURPOSE.
This the religion of Judaism was created by the younger semitic brothers of Kerala aryan namboodiris there was only one religion on this planet.. Sanatana Dharma.
In Hinduism there is no concept of permanent hell like in single holy book , single messiah religions. There is no hour of judgement or concept of pearly gates pearly gates.
No priest holds power over the devotee in Hinduism. There is no concept of confessing to a priest to give him power over you.
The aim of every religion is to give hope.. But the single messsiah / single holy book religions put you under servility. The mullahs and popes want to save you–because they have a hot line with god
IN SANATANA DHARMA THERE IS NO MIDDLE MAN..
No god can save you. Only you can save yourself.
Even Vishnu mortal avatars were not spared from the laws of Karma.. This is advance quantum physics, the play ( leela ) of scalar energy
THE DOCTRINE OF KARMA BRINGS HOPE TO THE HOPELESS, HELP TO THE HELPLESS, JOY TO THE CHEERLESS AND NEW STRENGTH TO THE WEAK.
It braces up a sinking man. It is an ideal "pick-me-up" for the depressed and gloomy.
Sanatana Dharma is enmeshed with Karma—as karma gives us HOPE, in this lifetime
Karma doctrine makes Sanatana Dharma a great religion.
The doctrine of Karma teaches: "Do not blame anybody when you suffer. Do not accuse God. Blame yourself first. You will have to reap what you have sown in your previous birth. Your present sufferings are due to your own bad Karma in your past life.
You are yourself the author of the present state. Do not weep. Do not cry over spilt milk. There is no use. You will not gain anything by so doing. I
nstead of weeping over the failure of crops during last year, go on ploughing this year. You will get abundant rain this year and rich harvest. Do virtuous actions now. Think rightly. Act rightly. You will have a brilliant and a glorious future."
How beautiful and soul-stirring is this magnanimous doctrine of Karma! The doctrine of Karma develops faith and supports ethics. It says: "If you hurt another man, you hurt yourself."
The belief in karma and reincarnation brings to each Hindu inner peace and self-assurance. The Hindu knows that the maturing of the soul takes many lives, and that if the soul is immature in the present birth, then there is hope, for there will be many opportunities for learning and growing in future lives.
The Doctrine of Karma only can bring solace, contentment, peace and strength to the afflicted and the desperate. It solves our difficulties and problems of life. It gives encouragement to the hopeless and the forlorn. It pushes a man to right thinking, right speech and right action
Kindness gives others hope. Your inconvenience is minor if you stop to help someone. But for them it means a great deal. Kindness is the most valuable gift you can give to someone. It changes them. By lifting up someone in need you automatically lift yourself. In that instant, you make the world a better place.
Next time when you are driving, try giving a lift to someone whom you always ignored—someone who cannot give you any help
Having a sense of purpose gives us direction, hope and empowerment. Listen to your soul and the mission it has for you.
MY SARAMA INFUSED HOPE TO ME.. I WANTED OUT OF MY MISERABLE LIFE. I WAS ON TO MY EIGHT SUICIDE.
LOOK AT MY PHOTO WITH MY SARAMA WHO DID PRATI PRASAVA ON ME .. YOU SEE A GIRL WHO LOVES LIFE. WHOSE SMILE EXTENDS TO HER EYES.
BELOW: PHOTO OF "VADAKAYIL KALKI ARMY CAP ".. BEST CAP ON THE PLANET.. EXCELLENT QUALITY
FLAUNT IT !!
MY SARAMA TOLD ME.. CHINNA MOYAL, YOU HAVE NEVER STITCHED UP ANYBODY IN YOUR LIFE.. WHY DO YOU WORRY? YOUR KARMIC BAGGAGE IS LESS.
This gave me HOPE.
Karma is simply an opportunity to make good – it neither punishes nor rewards; it simply guides.
Karma is scalar energy leela ( play ). It is advanced Quantum physics.. My Sarama studied quantum physics on his own to understand Sanatana Dharma
The central themes of positive psychology include happiness, hope, creativity and wisdom. I ask– which single messiah dogma laden SINGLE HOLY BOOK can ever match Bhagawad Gita ? Even stupid half wits know the answer..
The doctrine of Karma brings HOPE to the hopeless, help to the helpless, joy to the cheerless and new strength to the weak. It braces up a sunken man. It is an ideal "pick-me-up" for the depressed and gloomy.
The doctrine of karma gives encouragement to the hopeless and the forlorn. it pushes a man to right thinking, right speech and right action
Sanatana Dharma insists your hopes not your hurts must shape your future.. Bhagavad Gita exhorts " be in the moment "..
THE DOCTRINE OF KARMA ONLY CAN BRING SOLACE, CONTENTMENT, PEACE AND STRENGTH TO THE AFFLICTED AND THE DESPERATE. IT SOLVES OUR DIFFICULTIES AND PROBLEMS OF LIFE.
LOOK BACK AT THE PAST ONLY AS A DARTING GLANCE ( AS IN THE REAR VIEW MIRROR OF THE CAR WHILE DRIVING )
श्रीभगवानुवाच |
अक्षरं ब्रह्म परमं स्वभावोऽध्यात्ममुच्यते |
भूतभावोद्भवकरो विसर्ग: कर्मसञ्ज्ञित: || 3|| Bhagvad Gita 4000 BC.
shri bhagavan uvacha
aksharam brahma paramam svabhavo 'dhyatmam uchyate
bhuta-bhavodbhava-karo visargah karma-sanjnitah
Translation
BG 8.3: Krishna spAke : The Supreme Indestructible Entity is called Brahman; one's own self is called adhyatma. Actions pertaining to the material personality of living beings, and its development are called karma, or fruitive activities.
The soul ( atma ) is a splinter of brahmAn (paramatma ) , the mother field of morphogenetic consciousness ..
The Self expressing through a given embodiment, as though conditioned by it, is called the Adhyatma.
THE REAL 24 SPOKES OF DHARMA CHAKRA ARE—
Anurāga (Love)
Parākrama (Courage)
Dhairya (Patience)
Śānti (Peace)
Mahānubhāvatva (Magnanimity)
Praśastatva (Goodness)
Śraddāna ( Shraddha )
Apīḍana (Gentleness)
Niḥsaṃga (Selflessness)
Ātmniyantranā (Self-Control)
Ātmāhavana (Self Sacrifice)
Satyavāditā (Truthfulness)
Dhārmikatva (Righteousness)
Nyāyā (Justice)
Ānṛśaṃsya (Mercy)
Chāya (Gracefulness)
Amānitā (Humility)
Prabhubhakti (Loyalty)
Karuṇāveditā (Sympathy)
Ādhyātmikajñāna (Spiritual Knowledge)
Mahopekṣā (Forgiveness)
Akalkatā (Honesty)
Anāditva (Eternity)
APEKṢĀ (HOPE)
ONCE YOU CHOOSE HOPE ALL IS POSSIBLE..
Digression:
By the way , Emperor Ashoka who converted from BAAAAAAD Hinduism to GOOOOD Buddhism never existed.. Buddha himself never existed.
The real Buddha, whose statues are found in ancient rock cut temples, was born in 1900 BCE in India, Kikita, Gaya, Bihar, to parents Anjana/ Hemajit- he spoke Sanskrit, was a vegetarian, and believed in the soul..
The fake Buddha, cooked up by Jew Rothschild as the 9th avatar of Vishnu, was touted to be born in 480 BCE in Nepal, Lumbini, Kapilavastu, to parents Mayadevi/ Shuddodhana - he spoke Pali, ate pig and denied the existence of the soul.
Ayyappa was deleted as the ninth avatar of Vishnu and was substituted by the fake Buddha. Vishnu avatar is all about souls of Vishnu's Vaikunta gate keepers Jaya and Vijaya entering mortal wombs.
When the white invader came to India there was not a single yes – not a single Buddhist in India.
The real Mahavira ( 24th thirthankara ) was born in 4500 BCE, the descendant of Danava emperor Rishaba ( Adinath ) the first thirthankara born in 8190 BCE.- The fake Mahavira cooked up by Jew Rothschild was touted to be born in 540 BCE, as a contemporary to the fake Pali speaking ,pig eating Buddha.
When you observe Borubudur temple from a hovering helicopter overhead it represents a 1000 petal Sahasrara Chakra..
Same way Qutub Minar ( lotus tender stalk ) must be watched from top on a hovering helicopter to see that it represents precession..
There are 27 structures which represents the 27 nakshatras in the campus.. Ever since I explained this in the post below even hardcore Muslims have stopped claiming this tower as a Muslim monument..
The Brahma idol right on top was set on gimbals to physically show precession..
https://captajitvadakayil.in/2022/02/20/qutab-minar-was-dhruv-stambh-vishnu-nabhi-and-precession-cycle-of-earth-capt-ajit-vadakayil/
You think Pali speaking pig eating Buddha would have understood all this about the golden YUGA ( time ) spiral? Poor German Jew Rothschild, looks like his astronomy was poor !!
He could plant and retrieve forged artifacts ( like Ashoka rock edifices ) , but could not forge the heavens..
Jew Rothschild converted CHAKRA to CHAKKA, DHARMA to DHAMMA, KARMA to KAMMA, SUTRA to SUTTA , SATVA to SATTA , PUTRA to PUTTA , VAASTU to VATTU etc..
So COME ON MAAAAN ( like Obama ) , let us all dance like nincompoops to HUMMA ( haram )…
Let us not forget that Vedas downloaded 400 centuries ago, in the form of Sanskrit Srutis, provided the springboard for Quantum Physics..
Karma names the universal principle of cause and effect, action and reaction, which Hindus believe governs all consciousness. Karma is not FATE, for we act with what can be described as a conditioned free will creating our own destinies.
Bhagawad Gita is a chapter of Mahabharata— priceless 700-verses in Sanskrit penned in 4000 BC (chapters 25 – 42 of the 6th book of Mahabharata).
It deals with DHARMA, FATE, DESTINY, KARMA, FREE WILL , YOGA, ABJURING SELF PITY, CHOICES , BEING IN THE MOMENT , DOING YOUR DUTY, CHANGE etc
In essence, we reap what we sow. We harvest our karma.
The Law of Karma operates inexorably without any external agency (like God) monitoring it. Just as earth revolves around the sun without any agency monitoring it.
The law of Karma is Universal to all human beings. However it does not apply to animals. The reason is that humans have been granted free will to choose their actions whereas animals do not have a free will and they react to instincts given to them by nature.
Thus a Lion when it kills its prey for food does not acquire a karma of killing another animal.
The same action of killing a animal for food has a karmic outcome for the human being because the human can through power of discrimination (Viveka) choose to kill or spare the animal and derive its food from plants which is the natural law.
The law of Karma acts not just through action but mere intention. Intention is scalar energy based.. Any intention arising in our mind is a Karmic act and subject to Karmic laws.
Laws of Karma is Absolute. It is ONE chain that binds us all..
Universal forces of fate, destiny, karma, free will, and the Law of Attraction are all intertwined.
Even Vishnu avatars were not spared from law of Karma which is basically scalar energy aspect of advanced Quantum Physics.
Freedom is the essence of Karma. It gives opportunities for growth and evolution.
The doctrine of Karma affords a most rational and scientific explanation of what is called fate. It gives a positive definite word of assurance that, although the present of which he himself is the creator or the author, is unalterable and irrevocable, he may better his future by changing his thoughts, habits, tendencies and mode of action.
Introspection is a potent tool.
Herein lies great comfort, strength, encouragement and consolation to the desperate man.
Herein lies a strong impetus for the man to struggle and exert for improving himself. Even a forlorn and helpless man on the VERGE OF SUICIDE is made cheerful when he understands this doctrine of Karma.
Karma is the physical manifestation of the law of balance and harmony, as it applies to the results of decisions reached and attitudes held by beings capable of free will and choice
Karma is an unbreakable law of the cosmos. You deserve everything that happens to you, good or bad. You created your happiness and your misery.
Your intentional actions create your future. What you are experiencing right now is what karma wants you to experience
The whole universe is observing you.. Karma treats everyone equally. You won't get special treatment.
You can't escape from your past, but learning from it will change your future.
Karma is real. Karma is your bond with the past. Karma teaches you and makes your knowledge of the world more complete.
When your karmic baggage is high, your soul frequency is less, your aura is smaller will colours of higher chakras missing.
After death your soul get a deserved parking position in astral layers one to six before you are reborn in another womb on earth. You carry your past life karmic baggage with you..
Your soul rides on the soliton carrier wave cause by skull popping in the cremation fire..
Burial religions cause the soul to be trapped on earth forever, lonely and miserable.
When you soul frequency is same as the mother field of brahmAn ( zero karmic baggage and zero ego ) , you get moksha , and it is the end of anymore rebirths.. Your soul merges with the mother field of brahmAn and you are now god.
No matter how bad you have been, you can always begin again. You can only erase bad karma with regret, then practice kindness and love. There is no other way.
If you ever harmed anyone, ask them for forgiveness. Their forgiveness will dissolve any bad karma and turn it into good karma. Your guilt will disappear. You will feel wonderful.
When you hate or dislike someone, it creates negativity.
Karma plants a seed. Over time it will grow. At just the right moment, the exact moment, you will receive your karma. Karma makes you experience what you have done to others.
Remember the purpose of karma is not revenge. The universe is not vengeful. The purpose of karma is to help you become a better person.
The consequences of your actions good or bad may will follow you into the next life. God has not treated all the same.
The thing with karma is that it doesn't always happen immediately. Sometimes we have to wait for years. Sometimes our karma arrives without us even knowing it, or knowing what form it has taken.
The doctrine of Karma teaches: "Do not blame anybody when you suffer. Do not accuse God. Blame yourself first. You will have to reap what you have sown in your previous birth. Your present sufferings are due to your own bad Karma in your past life. You are yourself the author of the present state.
Instead of weeping over the failure of crops during last year, go on ploughing this year. Do virtuous actions now. Think rightly. Act rightly. You will have a brilliant and a glorious future.
How soul-stirring is this magnanimous doctrine of Karma! The doctrine of Karma develops faith and supports ethics. It says: "If you hurt another man, you hurt yourself."
You are the master of your destiny.
The Hindu theory is that thought and feeling, as well as actual speech or deeds, are part of Karma and create effects, and we do not accept the white man's sentiment that outward expression of thought and feeling in speech or deed is more important than the thought or feeling itself.
Hindus are NOT so generous with THANK YOU like the hypocritical west
This outward expression is only part of the thing expressed and its results are only partof the Karmaphal.
Nothing goes unnoticed in the universe. Karmaic mechanics is a perfect accounting system.
As an embodied soul in time we are subject to the veils of maya and the physical realities of karma.
This is why they say to let go of it all and remain in the moment. The karma we are here to experience will happen with or without worry or planning.
Karma is that catalyst that connects actions and thoughts with the quantum ripples of energy that in essence creates this dynamism in life here and hereafter.
न कर्तृत्वं न कर्माणि लोकस्य सृजति प्रभु: |
न कर्मफलसंयोगं स्वभावस्तु प्रवर्तते || 14|| Bhagavad Gita 4000 BC.
na kartritvam na karmani lokasya srijati prabhuh
na karma-phala-sanyogam svabhavas tu pravartate
Translation
BG 5.14: Neither the sense of doership nor the nature of actions comes from brahmAn; nor does He create the fruits of actions. All this is enacted by the modes of material nature (guṇas).
MY SARAMA EXPLAINED THE DOCTRINE OF KARMA TO ME..
HE INFUSED ME WITH HOPE.. HE ASKED ME " CHINNA MOYAL, WHY DO YOU WORRY AND DESPAIR SO MUCH " ..
DURING PRATI PRASAVA , I TOOK MY PERSONALISED BHAGAVAD GITA LESSONS FROM MY SARAMA – LIKE BETWEEN KRISHNA AND ARJUNA..
I NOW LOVE LIFE ..
This post is now continued to part 12 below:
https://suman-vadakayil.blogspot.com/2022/03/my-mentor-vadakayil-chinna-moyals_11.html
..
Chinna Moyal
https://www.vadakayilbravoproject.com/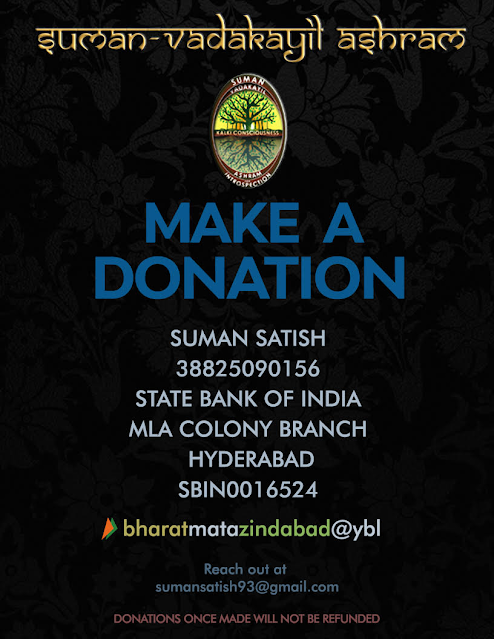 https://docs.google.com/spreadsheets/d/1U9bF6czrwOB-wCGr-_QIXqBKVpQfy_mQa-plodkUMI8/edit#gid=0
NEW KALKI ARMY RANKINGS AS ON 5TH MARCH 2022
################
FIELD MARSHALL AJIT VADAKAYIL
GENERAL MOHIT HANDA (IN CHARGE OF VADAKAYIL PROJECT ALPHA / BRAVO )
BRIG JAI SUMAN SATISH ( IN CHARGE OF " SUMAN-VADAKAYIL ASHRAM OF KALKI CONSCIOUSNESS " )
COL JAI JAYASHREE NARAYAN PILLAI
COL SHIVOHAM
LT COL SHEKHAR SHARMA
MAJOR RAKESH SIVAN
MAJOR SWAPNIL PANCHAL
CAPT ANISH BHANDARKAR
CAPT V KEDARESH
CAPT JAI- SHIVANYA
LIEUTENANT KALYANA KRISHNAN
LIEUTENANT DHARMESH SALIAN
I promise you mee darling, our love is forever, screw this society -- our love story shall remain and be sung of till the sun goes supernova--we shall keep meeting in our secret garden, the lamps of fidelity shall burn within our loving hearts- this is mee prayer , our bond will never break, this is etched in the cosmos, don't look so forlorn, baby please don't cry, see that stable snowy mountain, it is ours -- the story of our endless love shall remain forever
o mY darling, please come, hug me tight and extinguish this raging fire within me-- feel this fire which you kindled within me- o beloved, there's a lot of consternation going on in my heart --don't feel shy, just hold me , and slow dance with me-- don't fear this society , i've extinguished all them lamps - our tango is for us alone - please lock me in your powerful arms i'm so intoxicated my knees buckle - my heart and my thirsty body both are yearning to unite with you - please take me in your arms - o beloved please come faast , hug me tight, and extinguish this fire raging within me